Great news from the North!
Music@theCasino benefit event of vzw Qué bonito!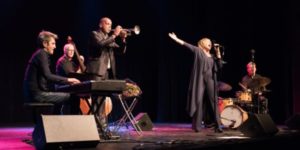 On Saturday, November 17, the beautiful charity party of the non-profit organization Qué bonito took place in the Casino Modern in Genk to support the project operation of Añañau in Peru. This wonderful musical event was made possible by the enthusiastic cooperation of many friends and family and many loyal volunteers. This year the Rotary club Genk Noord also helped with the organization and support. They also attended the event with a large delegation and gave extra financial support to the project.
Katia Malecki provided the first musical highlight with delicious French chansons, accompanied by her husband Carlo Nardozza and their friend David Demuynck, together with the group Moi, lazy and l'ami. A video showed what Añañau all means for the children and young people in Cusco and several sympathetic groups offered a cheque to support the work in Peru.
Rotary club Genk Staelen brought a cheque to contribute to various sub-projects of the project operation of Añañau, including the development of the new educational library and the ICT program for the children. The relatives of Palmers saved a certain amount every month to donate a nice sum to Añañau together. With great pride, they also handed their cheque over that evening. Finally, there was also the wonderful contribution of the Sweet Valley Sailors from Zutendaal who supported the project with the proceeds of various different activities.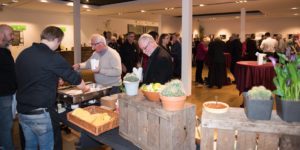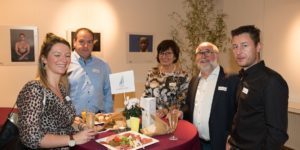 In addition to the wonderful musical program, many tasty snacks were included and guests could enjoy delicious local beers, exquisite wines, and so on.
After the break jazz singer Sofie, surrounded by her top musicians, brought heart-warming songs inspired by Burt Bacharch and Ella Fitzgerald. In the end, local musical hero Carlo Nardozza climbed the stage and together they brought the audience into ecstasy.
In the name of the whole Añañau team and all the children we want to thank everyone very much for their contribution to this wonderful event, for all their support. It really means so much to us that there is so much support from the home front and to see how much enthusiasm there is among the volunteers, attendees and everyone who helped out!
Thanks also Jef Gabriëls for writing the articles and this text.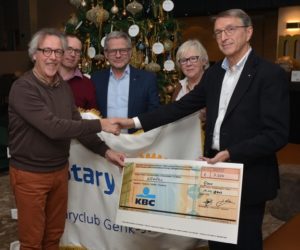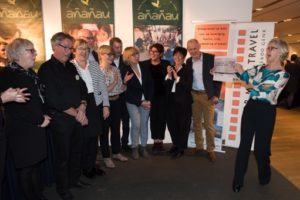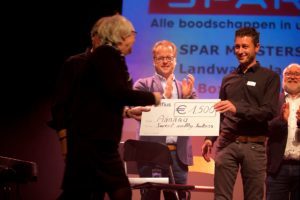 For more photos of the event, take a look here!
Music for Life 2018!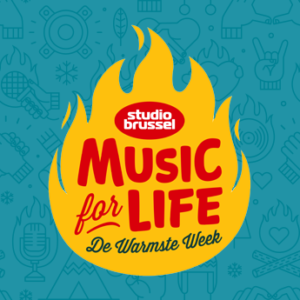 This year too, it was the Warmest Week of Music for Life from December 18th to December 24th and there were again many beautiful actions to put the project operation of Añañau (via Qué bonito!) In the spotlight and support!
The families of volunteers Bélise Raman and Maud Lason organized a wonderful Peruvian evening with delicious treats and the sale of beautiful Peruvian items from Añañau. It was a super fun party with a truly fantastic attendance!
Furthermore, a lot of sports enthusiasts ran the Warmathon somewhere in Flanders: Tine Corthouts and her husband Jochen and Prisca Valkeneers and Jos Bosch in Genk, Ruben Desmidt and two companions in Bruges …
In addition, Robin Vantournhout and Tine Corthouts also provided lots of love and warmth with their action for Añañau. Robin, awaiting their first child, expanded beautiful woolen stuff and baked cookies together with her colleagues from the sports medical center Nottebohm in Brecht. And Tine, with her little sprout next to her, baked Christmas biscuits for Bree and surroundings!
Also thanks to Franne Schepers for the donation wof a beautiful Spanish picture!
In the name of all the children and team members of Añañau, thank you to everyone for all your enthusiasm, your warm hearts and (sports) support! What a wonderful Warmest Week and Music for Life 2018!
Volunteers are going …
In December, we sadly said goodbye to volunteers Maud and Bélise and our students in occupational therapy Charlotte and Liesbet. Below you can read what they thought of their stay in Peru and the project operation:
Maud
"When I started at Ananau a couple months ago, I could never have dreamt that those same months would have been so beautiful. From day one the kids welcome you with open arms; there's so much love, so much respect, towards the tía's and also towards the other kids. Every single day at the project is a pleasure.
But the most beautiful thing about Ananau is, that it's even so much more than just that. Ananau is without a doubt a place where the kids can let go of their worries for a moment and can enjoy a warm hug and a laugh. But it's also a place where kids get the chances they deserve. Every single one of them is kind and intelligent, who certainly all will be succesful, all in their own way. And knowing that at Ananau you can assist them at doing that, is the most wonderful feeling."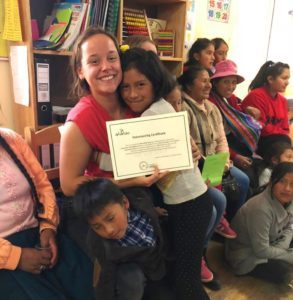 Bélise
"The last 3 months I volunteered at Añañau. In June I graduated as a social worker in Belgium. There I discovered my interest to work with underprivileged children. I'm very happy that I made the decision to travel to Peru and that I had the opportunity to make acquaintance of the beautiful project. I am convinced that Añañau makes a difference for all the children at the project. The cheerful, sweet, lovable children have conquered a special place in my heart forever. Most of the time I worked with the youngest children ( between 4 and 8 years old). Together we played, read, crafted,… and I got overwhelmed with hugs. But of course homework is always the priority. Maud (the other volunteer) and I are about to travel through South America for the next 3 months. I'm sure we will always look back on the times at Añañau with a warm feeling. Thank you to all the children and the whole Añañau team!"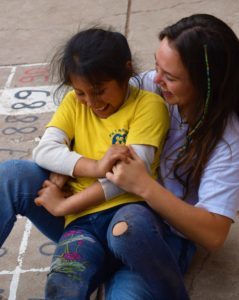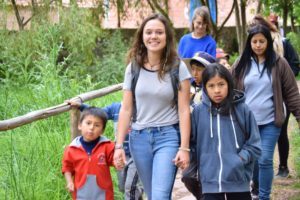 Charlotte
"Long ago when I was just a teenager, I wrote in a booklet all the countries that seem interesting to me to discover in my life. Peru was at the top of my list. I was especially fascinated by the culture things such as traditional clothing, language and the beautiful nature. In the past I was also very fond of alpacas! Doing volunteer work in Peru visits has always been my dream.
When I was told in the 2nd year of my Occupational Therapy at AP Antwerp that there were internships in Peru, it was soon clear to me: 'I will do this!'
My first acquaintance was heart-warming. All children hugged me and asked: 'Como te IIamas?'
They are all so sweet and cute. Given the circumstances in which they live, it was very difficult to understand at first that they are so open, spontaneous and happy.
A big thank you to the entire Añañau team. Everyone was ready and we were super welcomed and guided the full 2 months.
Everybody is ready every day to receive and accompany the children with their homework. In addition, the children are offered a tasty healthy meal every day.
I have wonderful memories that I take with me forever. For example: the Friday activities, the home visits, playing with the children, celebrating Christmas with the children …
Life in Peru is fantastic. The culture is very colorful and incredibly interesting.
There is always something going on and the Peruvians are sympathetic and courteous.
For me it is a life experience and also a great lesson in life. The difference between rich and poor is very striking. You are confronted with it every day, including in the project.
I am very grateful for the opportunity my parents have given me and all the support from my environment.
Añañau and Peru is like a second home for me. In Belgium I will often think back to the many beautiful moments. Who knows, I may be back soon in the future! "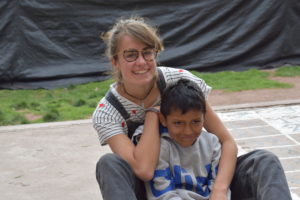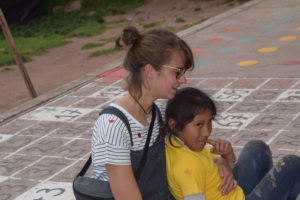 Liesbet
"I have always wanted to do volunteer work in Peru. When the school offered a place to practice my study in this country I was immediately sold. When I arrived at Añañau, I was loaded with hugs from all the children. They didn't even know me, but made me feel at home. The weeks that followed, my connection with the kids and team grew. There was a lot of laughter, sometimes a hug, and some good advice when I needed it. When I needed help or a good talk, there was always someone who I could count on. They make a good support system and a close family. The kids were amazing, always laughing. The love and closure that I got made my heart warm. It makes me even more happy that I could help some of the children in their development. Peru and Añañau are an unforgettable experience. With beautiful memories, new friends and a suitcase filled with souvenirs I'm going home."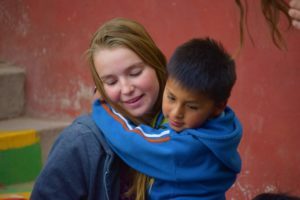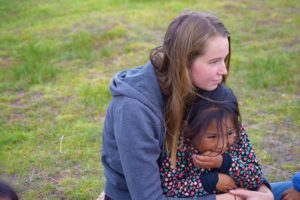 You were a great team. Thanks tía's for the elaboration of many projects and the fantastic time in Añañau.