Great news from the North!
Support sailing club 'Sweet Valley Sailors'
The 'Sweet Valley Sailors' are a number of members of the sailing club VVW Zutendaal who take initiatives several times a year to support some good causes. They organize a beach lounge in the summer for companies with snacks and drinks, they hold a spaghetti day in their clubhouse and they organize a sailing trip in the autumn.
This year, with 18 participants and 2 rented sailboats, the waters around Northern Sardinia were explored. Each participant pays his own rent and travel costs, but companies are sought to sponsor the dangers of nautical miles.
At the benefit event 'Music @ theCasino,' the Sailors brought a check with the nice amount of € 1500, -.
We thank the Sailors for their commitment and financial support.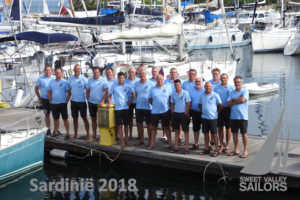 Peruvian evening
Liesbet Herijgers and Charlotte Goovaerts, the two students of occupational therapy who are currently doing an internship in the project, organized a Peruvian evening before they left for Peru. This fun party continued on September 21 in Merksem, where friends and family could enjoy delicious Peruvian food and drinks all evening. The whole room was beautifully dressed with photos and posters of the project and brochures of Añañau were on all tables.
Furthermore, the students sold candy jars and bottles of wine with the personalized label from Añañau. This profit went to the project. "We organized this Peruvian evening to involve our family and friends in our great adventure and to get acquainted with the project work of Añañau," say the students.
Thank you very much for all the support! Charlotte and Liesbet for organizing and family and friends to help and participate in this beautiful event!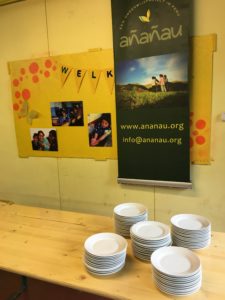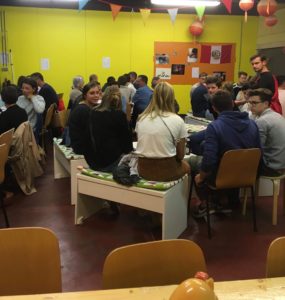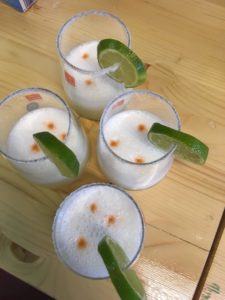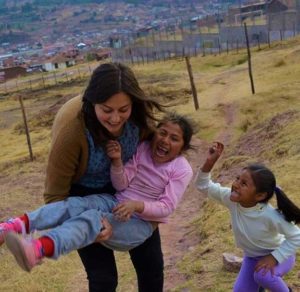 Volunteers come and go …
Unfortunately, in September we said goodbye to Lisa Cools. Lisa did volunteer work for a month in the project. She is currently studying language and literature French and Spanish and is ready for her master year. Lisa mainly worked with the youngest children and became a godmother of Yelisa. In Belgium, she is still an active volunteer of Añañau. We would like to thank you, Tía Lisa, for your sympathetic, spontaneous and enthusiastic cooperation in the project.
Bélise and Maud are two new energetic volunteers from Ghent. Bélise graduated as a social worker. Maud just graduated from secondary school. They happened to meet each other on the plane. Bélise talked about her plans to work at Añañau, and in the end, Maud also ended up here. Both are very positive and motivated. Their youth movement skills are very useful for making activities. Bélise currently works mainly with the youngest children. Maud works with both groups.
Furthermore, there are currently three students present who follow an internship in the project:
Lotte Vandewinkel is a student at Hogeschool Gent. She chose to do her internship in the project. Lotte has almost graduated as a social worker. She works with the youngest and the oldest children. A funny, quiet and a warm person, that is Lotte.
In Añañau we are currently working on a project on children's rights in cooperation with Kiyo (A Belgium NGO who works about children rights). Lotte did not leave this opportunity and decided to work out her bachelor thesis on this.
Charlotte Goovaerts and Liesbet Herijgers are two students of Artesis Plantijn Hogeschool Antwerpen. They finish their occupational therapy training this school year. The duo is very calm, down to earth and certainly very motivated. Both of them work mainly with the youngest children in the project. In doing so, they develop an intensive therapy for two students to stimulate development. Charlotte also develops a project around the classroom structure. Liesbet works with the method of dance writing. During the last weeks of their internship, they also work in a school for special education.
We are very curious! In the next newsletter, you will definitely read more about the progress and activities of our new volunteers and students.