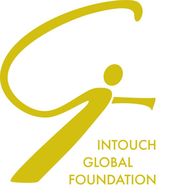 Cooperation from Intouch Global Foundation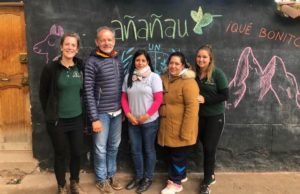 The foundation is supporting Añañau with two specific projects, namely the development of an eductive library and they help to finance the start-up of Añañau's second project in the primary school of Huancaro. Besides, they are provinding the organization with guidance on several educational matters and sharing experiences. With Añañau we are so happy and so grateful for this support. We want to thank the foundation very much for making these new projects possible!
Read more about Intouch Global Foundation on their website https://www.intouchglobalfoundation.com/.
Walking event SAIO school from Geel
The SAIO school from Geel organized their event "Walking for others!" for the 15th time this year. Every year they support a social project with the proceeds of this wonderful initiative and this time the school chose to support Añañau.
To introduce the students to the project and the living conditions of the children in San Jeronimo, Mia Dams, who visited the project in Peru a few years ago, and Lisa Cools, one of our volunteers, gave a presentation about the project to all the students.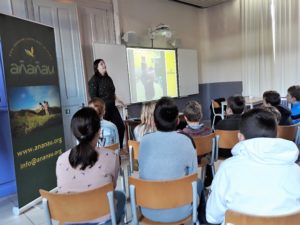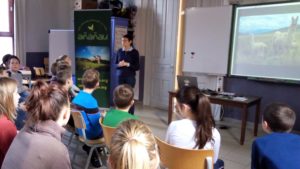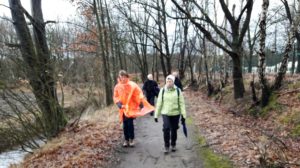 On Sunday 10 February 2019, all pupils and interested sports enthusiasts were invited with the choice of 2 walks, a slow road walk of 5 km in the center or the longer tour of 14 km. Afterwards everyone was welcome at the school for a snack and a drink. Non-walkers were also very welcome and could take a look at the market, where works of the students were offered for sale. They could also enjoy some goodies at the dessert buffet!
Despite the rainy day there was a very nice turnout, a lot of enthusiasm and there was a good walk! A beautiful amount was collected in this way and will be officially handed over to the project manager of Añañau in June.
Thank you very much to everyone that contributed to this wonderful event!
Volunteers come and go
During the first months of this year, several enthusiastic volunteers participated in the project!
Febe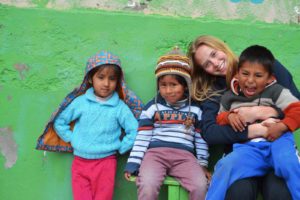 Febe D'Haeyer just graduated from high school and decided to go abroad for six months. She had known for a long time that she wanted to do volunteer work. Therefore she decided to work in Añañau for 2 months. Febe is from Ghent and is a member of the scouts. She has already been able to use her youth movement kills a lot! Febe mainly worked with the youngest children and together with volunteer Hanne she worked out a bundle with interactive activities and games for this age group.
Hanne
Hanne Van Doninck is from Antwerp and has just completed her training in orthopedagogy. She chose to first gain work experience abroad and worked for 3 months in Añañau. In Belgium she is a member of the scouts for children with a disability. Hanne is currently working with the little ones and together with volunteer Febe she has developed an interactive learning bundle based on playful and discovering learning.
We are very happy with all the help of these volunteers in the project! In the next newsletter you will certainly read more about the progress and activities of our new volunteers and students.
In January we also said goodbye to trainee Lotte. Below you can read what she thought of her stay in Peru and her internship in Añañau:
Lotte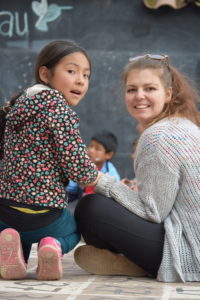 Lotte did her graduation internship as a social worker in the project in recent months. She studies at the Hogeschool Gent and during her internship also worked out her bachelor's thesis on children's rights. Lotte was an enthusiastic tía who worked with both the oldest and the youngest children. She says the following:
"I did my internship at Añañau as a social worker. I had a great experience and time there. All children have a special place in my heart. All the days I spent with them are days I will never forget! Days full of love and laughter. I am happy that I had the opportunity to be part of this large family and they will be in my heart forever. "
Great news from the North!