Project Liesbet and Charlotte
Charlotte and Liesbet did their internship in Añañau in the past two months. They both study occupational therapy at AP Hogeschool Antwerpen. Both worked out specific therapy for two children with a learning or developmental delay. In addition, they focused on an extra project.
Charlotte made activities for the talk. The idea of the talk is that more pupil-driven work is being done. In addition, the discussion can also be used to work more on a social and emotional level.
Charlotte set up a weekly schedule with all kinds of specific activities. Every day we start with storytelling. The child of the day may then tell something. We do this in order to elicit opinions and share interests.
Then the specific activity begins. These activities aim to work around emotions, social skills and language.
Thank you Tía Charlotte for the development of your project!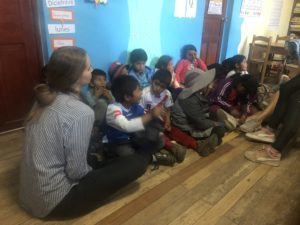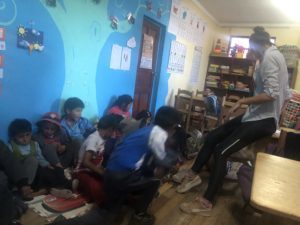 Student Liesbet gave two groups of writing dance every week.
Writing dance is a method that improves the fine writing motor skills by doing prior activities with great motor skills. These activities are done with nice music and varied materials.
For her follow client she worked out fun materials to learn to count to 10 on a material level. We can also use these materials to practice with other children.
Thanks tía Liesbet for the fun lessons and the new materials!