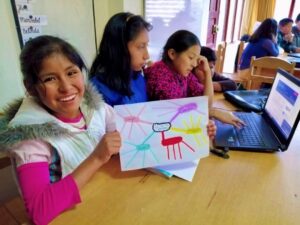 This year we started the new year at the project and also the holiday program with full force! Social work intern Lynn Cauwels worked out with the permanent team an interesting and interactive project week for the group of the older children about the sustainable development goals, the so-called SDGs of the 2030 Agenda, and children's rights!
The theme of the project week was chosen democratically by the children themselves after several introductory activities and making the short films for the Equator project during the past two months. In addition to paying attention to the climate, equality, no hunger and fair work, they mainly wanted to work around SDG 1: End poverty. It was surprising that the children do not consider themselves as poor and that they wanted do a lot of things for other people who have even less. The theme was further explored through games, mind maps, research work on the laptop and group work, and the children worked out all kinds of folders with information and slogans.
Then they also set up their own action to draw attention to this world problem and to raise awareness in the community. They all went to the town square of San Jeronimo to take action. On the basis of the information they processed and the self-made brochures about the SDG on poverty, they addressed the people and entered into a dialogue. Passers-by were also asked for their opinion or solutions and it was also about how you can feel "rich" in many ways. The proposals for the actions also came from the children themselves. In this way we work on many social and communication skills and on the active participation of the children. All children were very enthusiastic and find it important to think about these important themes and make their voices heard!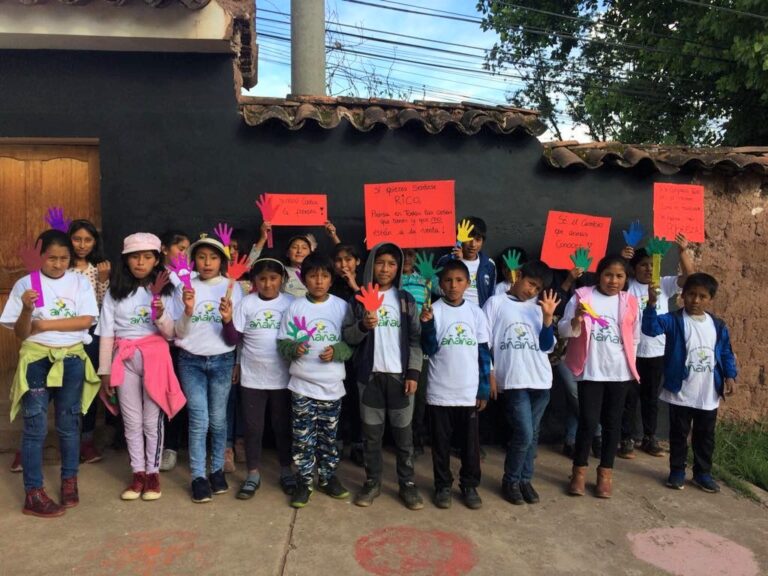 To close the week, the parents were also invited to a presentation of the children about their work and the action they took. The parents enjoyed hearing their children's voice and learning their interests. They also delved deeper into the theme, which was also instructive and interesting for the project. Finally, the project week was concluded on Friday with a creative expression in which the different ideas of the children were painted on large canvases.
What a wonderful internship and thank you tía Lynn!